I love collecting children's books. My favorites are usually either magical in a quiet way (like Owl Moon and A Lot of Otters) or have a rollicking rhyme to them (like Jamberry and A House is a House for Me). These are some of my favorites. I will review more throughout the long weekend!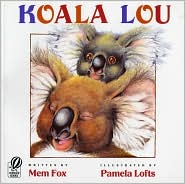 Koala Lou by Mem Fox
Koala Lou is loved by everyone, but it is her mother who loves
her most of all. She often tells her daughter, "Koala Lou, I DO love you." As the family grows and her mother gets busier, Koal
a Lou yearns to hear those words again. She sets out to win the Bush Olympics as a way to gain her mother's attention.
You can hear the author read the book aloud
right here
.
Mem Fox also wrote
Reading Magic
where she talks about how to read to kids. "There's no exact way of reading aloud, other than to be as expressive as possible... The ups and downs of our voices and our pauses and points of emphasis are like magic."
A Lot of Otters by Barbara Helen Berger
The first page shows a toddler walking with a book; the baby climbs into a box at the title page; at the opening of the real story, the child begins reading the book, about ``Mother Moon'' looking for her child, her ``moonlet.'' What the child sees on the picture-book page is the scene readers see; from there, the events are nonstop: The toddler drops the book, and an otter spots it from underwater. That otter reads the book aloud to a group of otters
treading water, including one who floats on her back with her baby lying upon her like a fuzzy teddy bear. The moon-mother's tears fall into the sea, turning into stars--a folktale element that allows for lovely compositions as the otters dive for the stars. Mother and moonlet--who turns out to be the toddler--are reunited.
I love otters. This book has such a serene, dreamlike quality to it and the illustrations are beautiful.
A Little House Birthday by Laura Ingalls Wilder
I like these Little House picture books because they take the stories right out of the books. The illustrations are so much like the illustrations Garth Williams produced for the original Little House books. These books are great for preschoolers who are just a little young for the "real" books.