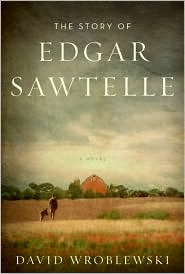 Edgar Sawtelle was born without the ability to use his vocal chords, so he communicates primarily through his own adapted version of sign language. He lives on a farm where his family raises their own breed of Sawtelle dogs and Edgar and his parents work tirelessly to train them. The dogs are prized miles around for their intelligence and loyalty. The book eventually turns into something of a mystery novel.
Edgar's dog, Almondine, has been with him since he was a baby. When Edgar was an infant (and he couldn't cry because of his loss of vocalization), Almondine was the only one that could hear the tiny rasping noises he made when crying. Almondine would nudge Edgar's mother and then she would know that he was hungry, or tired, or wet. Edgar calls Almondine his soulmate and they are together constantly.
Dogs play a very important part of the story and I was reminded of The Call of the Wild. I think the author may have been inspired somewhat by Jack London's story.
This is a beautifully written book. The author is a master story-teller. The characters are vivid and real and each character has a very distinct, believable personality.
I fell in love with Edgar. The poor kid has been through some disastrous things but he is still smart and determined and self-sacrificing all the way through. He deserves every good thing that the author could have put down on paper. That is why the book was so disappointing.
I can't say more without giving the ending away, just that it was a crash and burn ending and a book that held my greatest admiration for 500 pages just ended in disappointment. I know every story doesn't have to have a happy ending, but I don't understand what the point was of luring the reader into turning the pages one by one in quiet amazement, and then... that's it?? That's what happens?? Bummer.